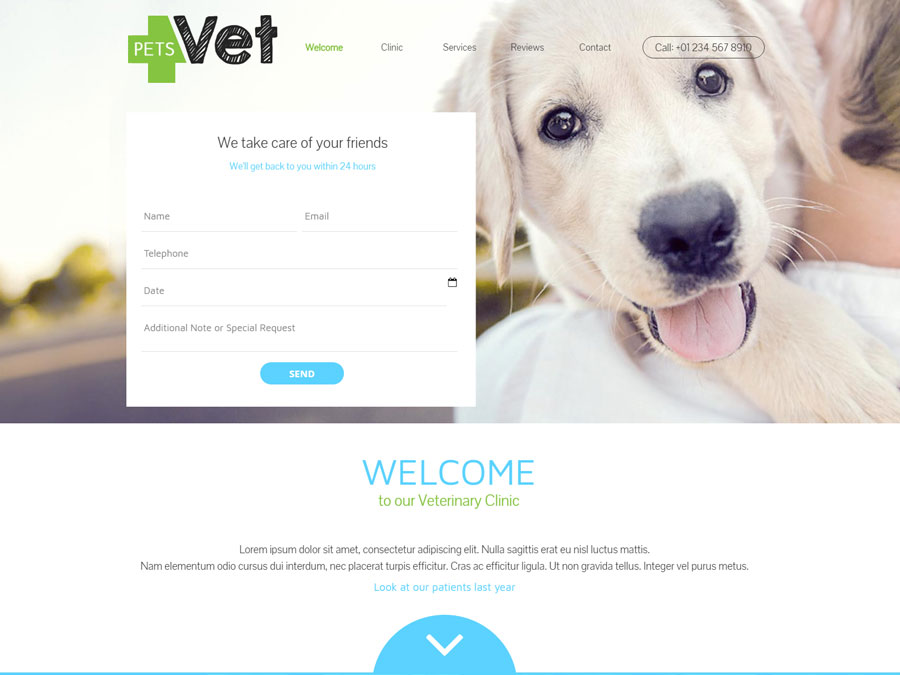 Live Preview
Created with WebSite X5 Evolution 17.0
Uses Optional Objects
PetsVet is the perfect template to go on-line with your veterinary activity or your vet clinic. With an eye-catching one-page structure, PetsVet allows you to show visitors not only your pet care services, but also the reviews of your customers: and we all know that a single word is worth more than a thousand extra pages. The contact form appears both in the upper menu -which remains visible even when scrolling- and also at the end of the page, with a full-width map. But the real big thing is the form which immediately appears in the home-page, for an immediate contact. It can be very useful in case of quick requests. Bring your fantastic pets' care website to life with PetsVet!
Read more
Full Templates
A Full Template is a website complete with graphics, styles and sample pages.

When you buy it, you'll get a .iwzip project file made with WebSite X5 and its Graphic Template, that is its clean layout, for free.

From the Full Template order sheet you can also tick to add the Optional Objects used in the project that you don't own yet. The total of the order will change according to the selected items.

As soon as the transaction is completed, the Optional Objects will be available within the software, in Objects Management > Licensed .
If you leave everything unchecked, you'll get the .iwzip file by e-mail and the Graphic Template will be added to the WebSite X5 Default Template section.
Full Templates
A complete website to customize and publish today.
12 Cr
Graphic Template
Included!
Graphic Template
A Graphic Template is a website layout with no contents inside except for a preset graphic design to help you start your project. As soon as the transaction is completed, you'll find the template already in WebSite X5, in the Licensed category.
Graphic Template
A blank website with a clean layout to start with.
8 Cr