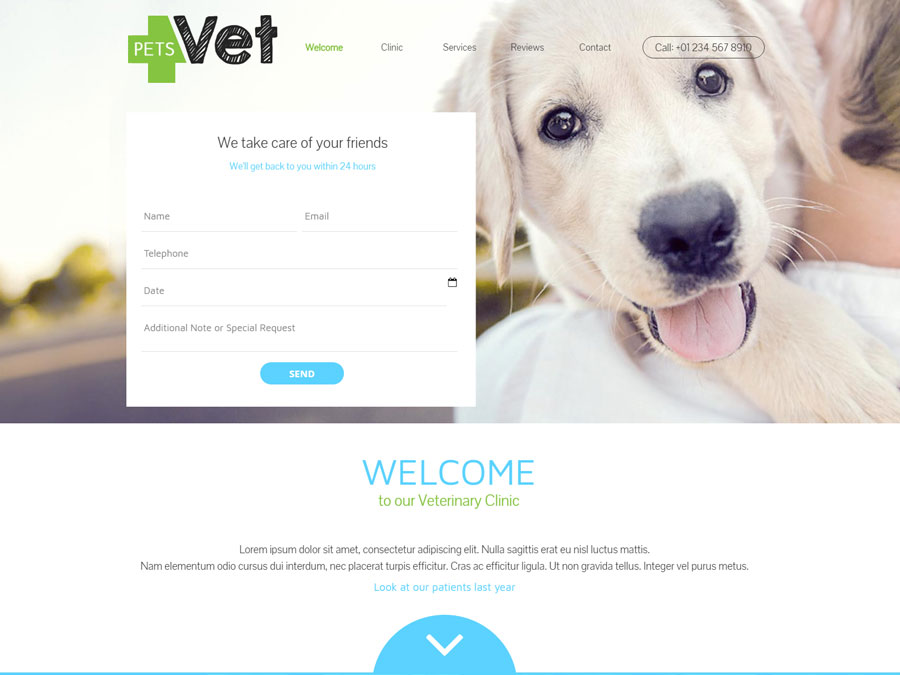 Podgląd na żywo
Utworzone w wersji WebSite X5 Evo 17.0
Wykorzystuje obiekty opcjonalne
PetsVet is the perfect template to go on-line with your veterinary activity or your vet clinic. With an eye-catching one-page structure, PetsVet allows you to show visitors not only your pet care services, but also the reviews of your customers: and we all know that a single word is worth more than a thousand extra pages. The contact form appears both in the upper menu -which remains visible even when scrolling- and also at the end of the page, with a full-width map. But the real big thing is the form which immediately appears in the home-page, for an immediate contact. It can be very useful in case of quick requests. Bring your fantastic pets' care website to life with PetsVet!
Czytaj więcej
WebSite X5 Templates
Pełny wzorzec to kompletna witryna z grafiką, stylami oraz przykładowymi stronami.

Jest to projekt zbudowany w programie WebSite X5. Gdy zostanie kupiony, pojawi się w programie w sekcji Wzorzec na liście dostępnych wzorców w kategorii Licencjonowane.

Zamawiając wzorzec, możesz zaznaczyć opcję dodania wykorzystanych w nim obiektów opcjonalnych, których jeszcze nie masz. Wartość zamówienia może być różna w zależności od zaznaczonych elementów.
Gdy tylko transakcja zostanie dokonana, obiekty opcjonalne staną się dostępne w programie w Zarządzanie obiektami > Licencjonowane .
W przypadku nie zaznaczenia żadnego obiektu, zamówienie będzie obejmowało tylko wzorzec.
PetsVet
Kompletna witryna do zmodyfikowania i opublikowania już dziś.
12 Cr