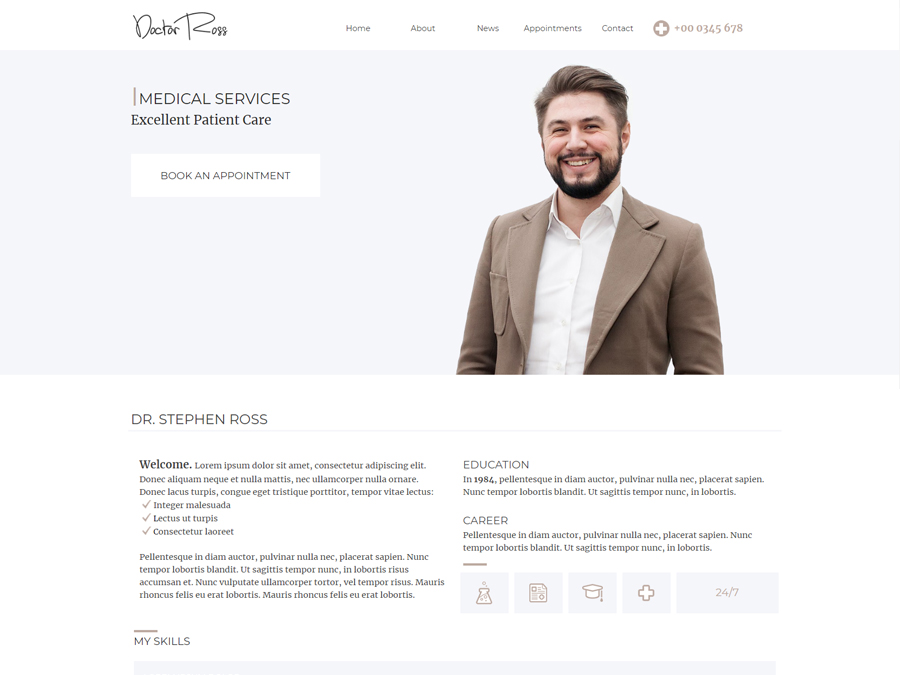 Aperçu
Créé avec WebSite X5 Evo 16.0
Prévoit des Objets Optionnels
Doctor Ross is the website template for doctors who want the best quality treatment for their patients. How is that even possible? You will know it once you start getting appointments through its simple booking form. Encourage your patients to use it and you'll soon both save time and hassle. No more sticky notes. Just your website to keep yourself organized and up-to-date with your patients. They can learn all about you: share your education, latest news and the most relevant medical information with Doctor Ross template. Individuals and small clinics will love it. Not only they will enjoy its one-page layout, but also its complete easy-to-use design features. This doctor website template is a catch. Hit the button and try it now.
Lire plus
WebSite X5 Template
Un Template est un site comprenant une structure graphique, des styles et des pages d'exemple.

Il s'agit d'un projet créé avec WebSite X5 et, si vous décidez de l'acheter, vous allez à le retrouver dans la liste des Templates disponibles dans la catégorie Achetés de la liste de la fenêtre de sélection du modèle.

À partir de la fiche récapitulative de commande, vous pouvez également sélectionner les Objets Optionnels inclus dans le projet que vous ne possédez pas encore.
Le total de la commande se met automatiquement à jour en fonction des articles ajoutés.

Une fois la transaction effectuée, les Objets Optionnels ajoutés seront disponibles dans Gestion des Objets > Achetés à l'intérieur du logiciel.
Si vous ne sélectionnez rien, vous procédez uniquement avec l'achat du Templatele.
Doctor Ross
Un site complet à personnaliser et à publier aujourd'hui.
12 Cr