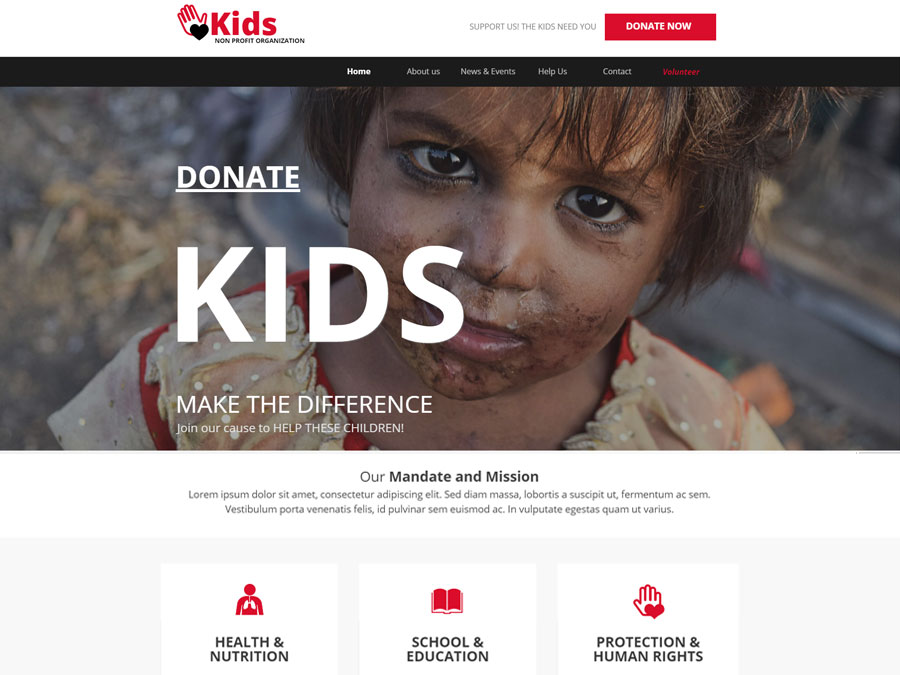 Aperçu
Créé avec WebSite X5 Evo 17.0
Prévoit des Objets Optionnels
Enhance the visibility of your website with KIDS NPO. This WebSite X5 template is perfect for promoting your nonprofit organization. A simple but effective layout allows you to inform visitors about your npo's activities. Full-width images will help you capture visitor's attention, while the ""Donate Now"" button is clearly visible in the header and stays even when scrolling down through the pages, making donation easier with the "PayPal" button. You can also connect the social profiles of your organization and rise your cause's awareness. Furthermore, the "Volunteer" section allows you to collect the data of your future partners through an intuitive form, giving people a chance to help. Thanks to the WebSite X5 builder you can create your organization's website in just a few steps and ensure the maximum visibility to your project.
Lire plus
WebSite X5 Template
Un Template est un site comprenant une structure graphique, des styles et des pages d'exemple.

Il s'agit d'un projet créé avec WebSite X5 et, si vous décidez de l'acheter, vous allez à le retrouver dans la liste des Templates disponibles dans la catégorie Achetés de la liste de la fenêtre de sélection du modèle.

À partir de la fiche récapitulative de commande, vous pouvez également sélectionner les Objets Optionnels inclus dans le projet que vous ne possédez pas encore.
Le total de la commande se met automatiquement à jour en fonction des articles ajoutés.

Une fois la transaction effectuée, les Objets Optionnels ajoutés seront disponibles dans Gestion des Objets > Achetés à l'intérieur du logiciel.
Si vous ne sélectionnez rien, vous procédez uniquement avec l'achat du Templatele.
KIDS-NPO
Un site complet à personnaliser et à publier aujourd'hui.
12 Cr