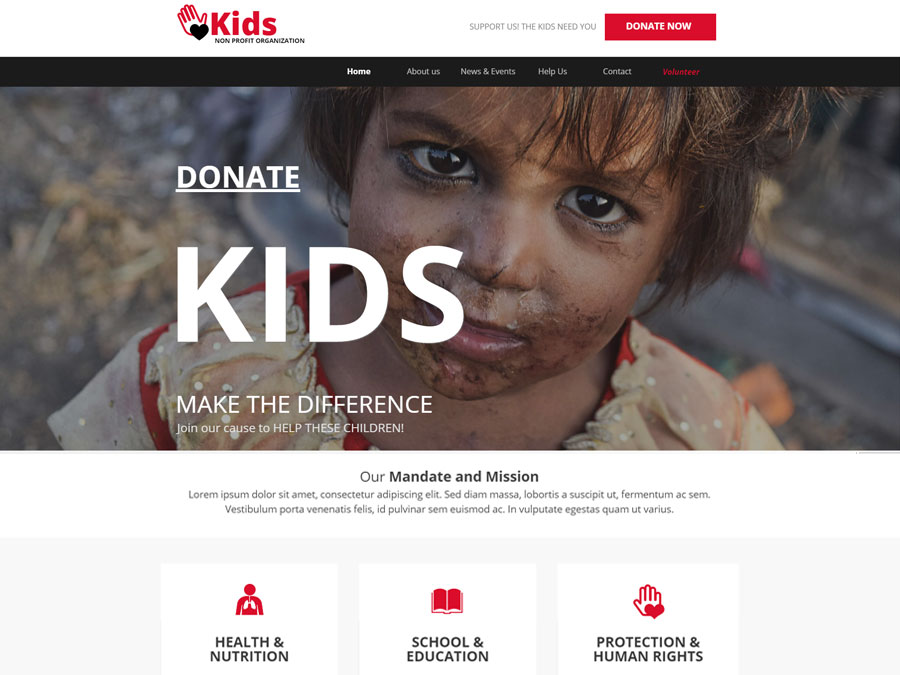 Live Preview
Created with WebSite X5 Evolution 17.0
Uses Optional Objects
Enhance the visibility of your website with KIDS NPO. This WebSite X5 template is perfect for promoting your nonprofit organization. A simple but effective layout allows you to inform visitors about your npo's activities. Full-width images will help you capture visitor's attention, while the ""Donate Now"" button is clearly visible in the header and stays even when scrolling down through the pages, making donation easier with the "PayPal" button. You can also connect the social profiles of your organization and rise your cause's awareness. Furthermore, the "Volunteer" section allows you to collect the data of your future partners through an intuitive form, giving people a chance to help. Thanks to the WebSite X5 builder you can create your organization's website in just a few steps and ensure the maximum visibility to your project.
Read more
Full Templates
A Full Template is a website complete with graphics, styles and sample pages.

When you buy it, you'll get a .iwzip project file made with WebSite X5 and its Graphic Template, that is its clean layout, for free.

From the Full Template order sheet you can also tick to add the Optional Objects used in the project that you don't own yet. The total of the order will change according to the selected items.

As soon as the transaction is completed, the Optional Objects will be available within the software, in Objects Management > Licensed .
If you leave everything unchecked, you'll get the .iwzip file by e-mail and the Graphic Template will be added to the WebSite X5 Default Template section.
Full Templates
A complete website to customize and publish today.
12 Cr
Graphic Template
Included!
Graphic Template
A Graphic Template is a website layout with no contents inside except for a preset graphic design to help you start your project. As soon as the transaction is completed, you'll find the template already in WebSite X5, in the Licensed category.
Graphic Template
A blank website with a clean layout to start with.
8 Cr