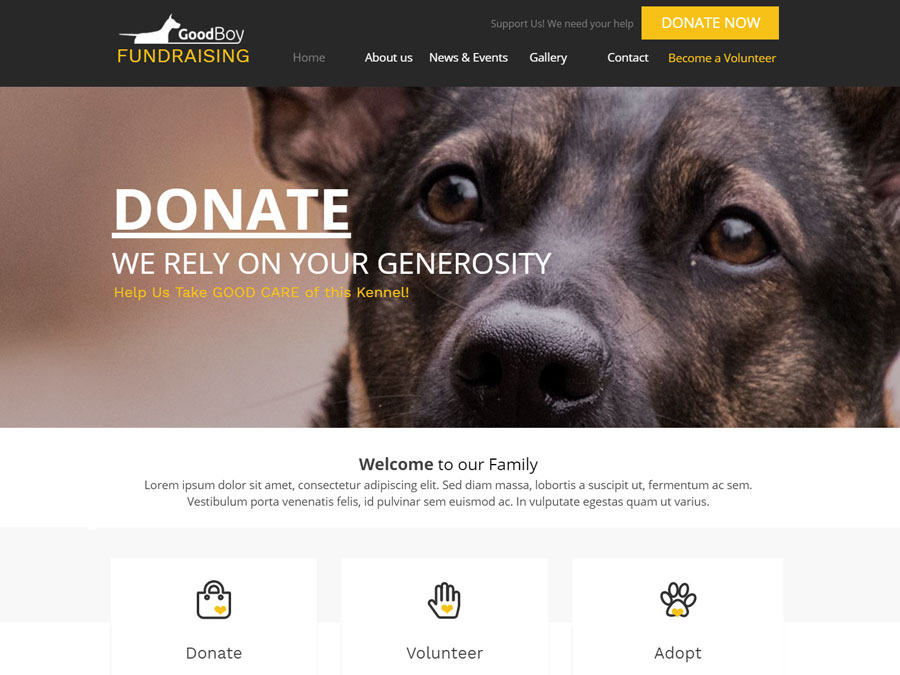 Live Preview
Created with WebSite X5 Evolution 16.0
Uses Optional Objects
If you're serious about your cause, GoodBooy Fundraising is the site you need to raise awareness and funds. This WebSite X5 Template fully covers Charity, non-profit and NOG organizations' specific goals. Want proof? It comes with a modern one-page layout, a functional Donation Page and a simple volunteer application form. All images are included, but if you want to change them, play around with several photo options from the WebSite X5 image library. Good photos and graphics are a must to support your mission. As soon as you land on GoodBoy Fundraising, your charity organization will instantly make a positive impact and spread your message to the world. Pets, kids or environment? Whatever your cause is, this template is the most powerful way to gather donations and reclute volunteers. So, what are you waiting for? Act now!
Read more
Full Templates
A Full Template is a website complete with graphics, styles and sample pages.

When you buy it, you'll get a .iwzip project file made with WebSite X5 and its Graphic Template, that is its clean layout, for free.

From the Full Template order sheet you can also tick to add the Optional Objects used in the project that you don't own yet. The total of the order will change according to the selected items.

As soon as the transaction is completed, the Optional Objects will be available within the software, in Objects Management > Licensed .
If you leave everything unchecked, you'll get the .iwzip file by e-mail and the Graphic Template will be added to the WebSite X5 Default Template section.
Full Templates
A complete website to customize and publish today.
12 Cr
Graphic Template
Included!
Graphic Template
A Graphic Template is a website layout with no contents inside except for a preset graphic design to help you start your project. As soon as the transaction is completed, you'll find the template already in WebSite X5, in the Licensed category.
Graphic Template
A blank website with a clean layout to start with.
8 Cr