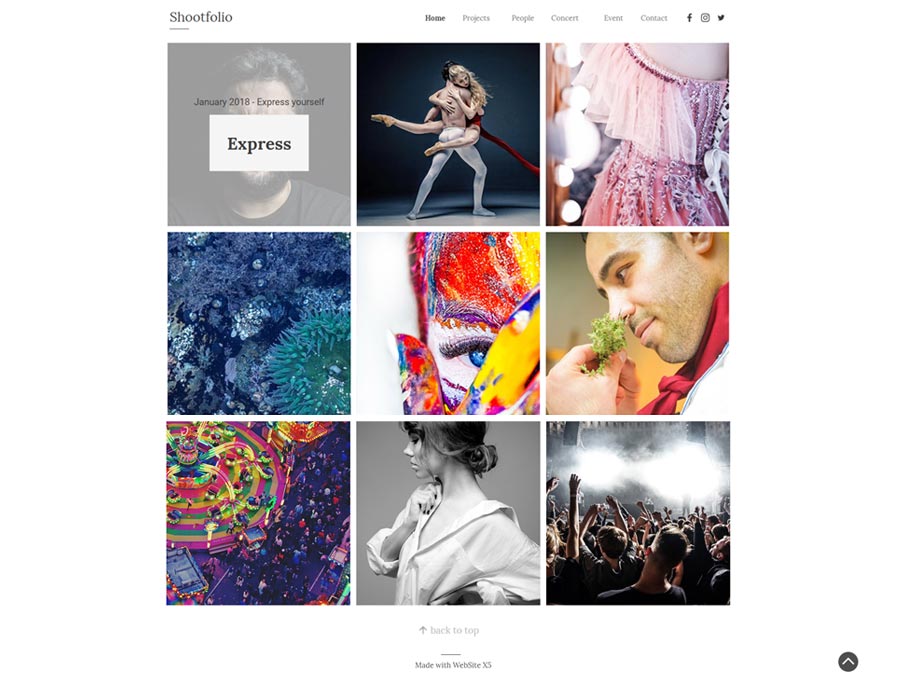 Live Preview
Created with WebSite X5 Evolution 16.0
Uses Optional Objects
Shootfolio is the online photography portfolio you've been waiting for. It's modern, attractive and really easy to update. Doesn't sound good enough? See the simple aesthetics and beautifully tiled design: they easily fit any style of photography. The galleries make it easy for clients to browse full-screen images or zoom in to capture more details. The 7-page layout is so well organised that you won't waste any time updating your content. Customize this template with your most stunning photos and let people keep up with your work. If it's photography portfolio you're after then look no further than Shootfolio.
Read more
Full Templates
A Full Template is a website complete with graphics, styles and sample pages.

When you buy it, you'll get a .iwzip project file made with WebSite X5 and its Graphic Template, that is its clean layout, for free.

From the Full Template order sheet you can also tick to add the Optional Objects used in the project that you don't own yet. The total of the order will change according to the selected items.

As soon as the transaction is completed, the Optional Objects will be available within the software, in Objects Management > Licensed .
If you leave everything unchecked, you'll get the .iwzip file by e-mail and the Graphic Template will be added to the WebSite X5 Default Template section.
Full Templates
A complete website to customize and publish today.
16 Cr
Graphic Template
Included!
Graphic Template
A Graphic Template is a website layout with no contents inside except for a preset graphic design to help you start your project. As soon as the transaction is completed, you'll find the template already in WebSite X5, in the Licensed category.
Graphic Template
A blank website with a clean layout to start with.
8 Cr