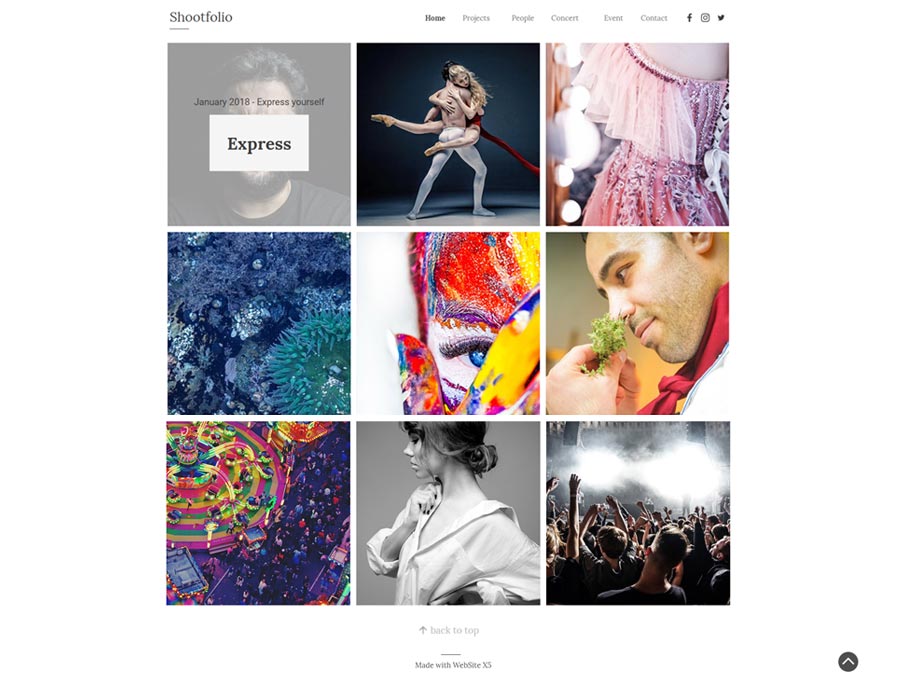 Aperçu
Créé avec WebSite X5 Evo 16.0
Prévoit des Objets Optionnels
Shootfolio is the online photography portfolio you've been waiting for. It's modern, attractive and really easy to update. Doesn't sound good enough? See the simple aesthetics and beautifully tiled design: they easily fit any style of photography. The galleries make it easy for clients to browse full-screen images or zoom in to capture more details. The 7-page layout is so well organised that you won't waste any time updating your content. Customize this template with your most stunning photos and let people keep up with your work. If it's photography portfolio you're after then look no further than Shootfolio.
Lire plus
WebSite X5 Template
Un Template est un site comprenant une structure graphique, des styles et des pages d'exemple.

Il s'agit d'un projet créé avec WebSite X5 et, si vous décidez de l'acheter, vous allez à le retrouver dans la liste des Templates disponibles dans la catégorie Achetés de la liste de la fenêtre de sélection du modèle.

À partir de la fiche récapitulative de commande, vous pouvez également sélectionner les Objets Optionnels inclus dans le projet que vous ne possédez pas encore.
Le total de la commande se met automatiquement à jour en fonction des articles ajoutés.

Une fois la transaction effectuée, les Objets Optionnels ajoutés seront disponibles dans Gestion des Objets > Achetés à l'intérieur du logiciel.
Si vous ne sélectionnez rien, vous procédez uniquement avec l'achat du Templatele.
Shootfolio
Un site complet à personnaliser et à publier aujourd'hui.
16 Cr