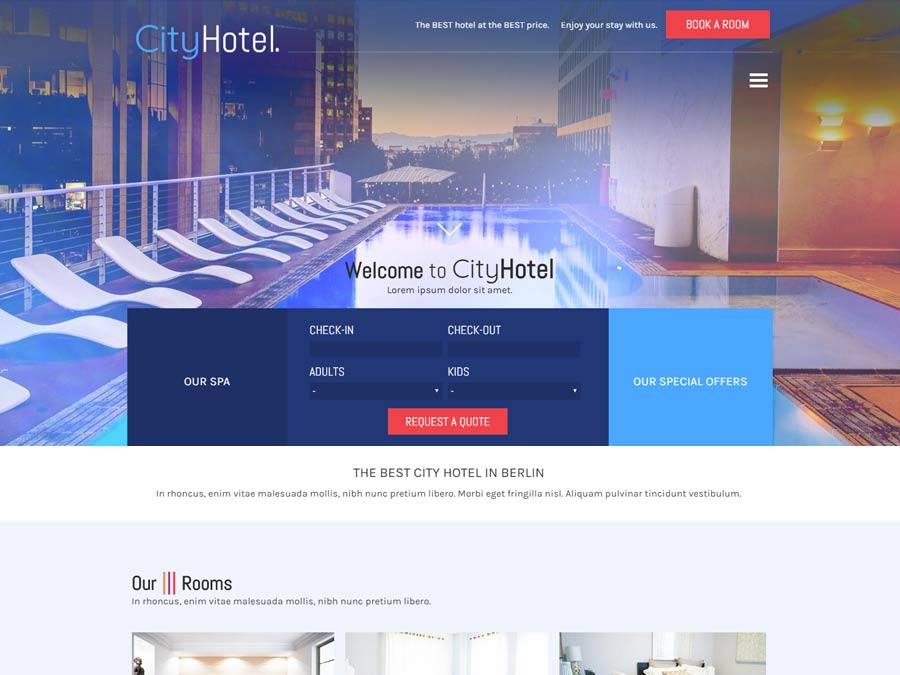 Live Preview
Created with WebSite X5 Evolution 16.0
Uses Optional Objects
What do you need to serve your guests better? Just CityHotel. This hotel website template includes a free elegant reservation form with input fields like check-in and check out-dates, that are provided with calendar input options. The form comes equipped with number of adults and children, animals and room types input fields. Connect it to your email and customize it with your data to easily start receiving your website booking requests directly to your inbox. And if you're looking for a fresh way to stand out online, easily add your hotel photos to the modern gallery to display the beauty of your hotel. CityHotel template helps you create a modern hotel website with smooth navigation and responsive design, without coding or extra graphic skills. So your guests will reach your structure from any device in the most comfortable way.
Read more
Full Templates
A Full Template is a website complete with graphics, styles and sample pages.

When you buy it, you'll get a .iwzip project file made with WebSite X5 and its Graphic Template, that is its clean layout, for free.

From the Full Template order sheet you can also tick to add the Optional Objects used in the project that you don't own yet. The total of the order will change according to the selected items.

As soon as the transaction is completed, the Optional Objects will be available within the software, in Objects Management > Licensed .
If you leave everything unchecked, you'll get the .iwzip file by e-mail and the Graphic Template will be added to the WebSite X5 Default Template section.
Full Templates
A complete website to customize and publish today.
20 Cr
Graphic Template
Included!
Graphic Template
A Graphic Template is a website layout with no contents inside except for a preset graphic design to help you start your project. As soon as the transaction is completed, you'll find the template already in WebSite X5, in the Licensed category.
Graphic Template
A blank website with a clean layout to start with.
8 Cr