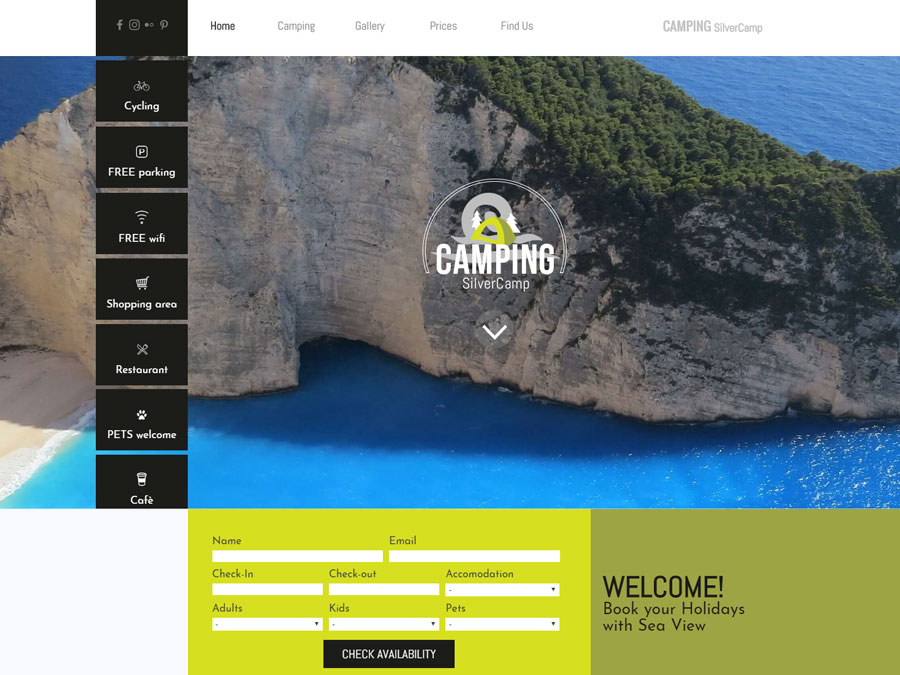 Live Preview
Created with WebSite X5 Evolution 16.0
Uses Optional Objects
SilverCamp has everything a modern camping website template needs. A beautifully organized layout, a clean reservation form and eye-catching parallax effects that can help you build a stunning online presence for your venue. On top of that, its fixed navigation sidebar makes it easier for potential guests to browse through your services and little amenities as they scroll down the page. What's the best part? You can do anything by yourself and create the website for your campground in a few clicks. Customize the template with your logo, imagery and text. Camping is a responsive template and it will easily adapt to any device. To increase your reservations, simply edit the Offers section with your accomodation details. It's really easy! The Travel and Hospitality world is changing: your website should give a complete representation of what it's like to stay at your facilities. Camping is the website template you need to really be on top of your game.
Read more
Full Templates
A Full Template is a website complete with graphics, styles and sample pages.

When you buy it, you'll get a .iwzip project file made with WebSite X5 and its Graphic Template, that is its clean layout, for free.

From the Full Template order sheet you can also tick to add the Optional Objects used in the project that you don't own yet. The total of the order will change according to the selected items.

As soon as the transaction is completed, the Optional Objects will be available within the software, in Objects Management > Licensed .
If you leave everything unchecked, you'll get the .iwzip file by e-mail and the Graphic Template will be added to the WebSite X5 Default Template section.
Full Templates
A complete website to customize and publish today.
20 Cr
Graphic Template
Included!
Graphic Template
A Graphic Template is a website layout with no contents inside except for a preset graphic design to help you start your project. As soon as the transaction is completed, you'll find the template already in WebSite X5, in the Licensed category.
Graphic Template
A blank website with a clean layout to start with.
8 Cr