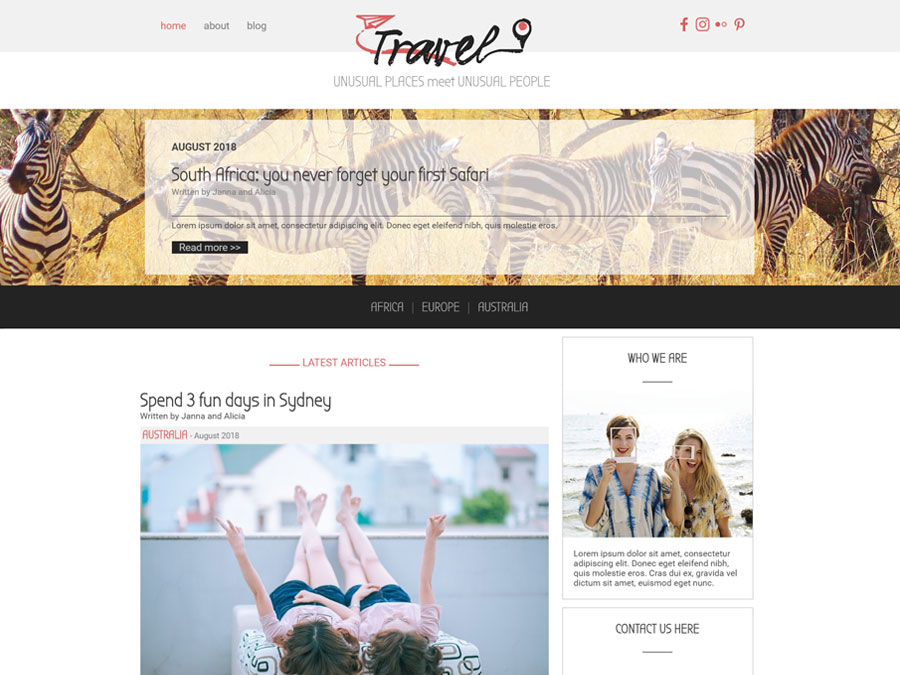 Aperçu
Créé avec WebSite X5 Evolution 16.0
Prévoit des Objets Optionnels
The best trips never end when you have a blog to share your stories about them. If it only was that easy, uh? In fact, it really is that simple posting your content with Travel template for bloggers. This WebSite X5 template is made of fully-functional pages to help you collect beautiful memories of your travel experience - all in one place. You can edit blog posts in minutes. Videos, travel guides and photos of your latest trips. Your wanderluster personality will shine online. Want to add your touch? Simply use the drag and drop builder to craft new pages or make improvements on Travel blog template. And if you're serious about becoming a travel blogger, easily optimize your content with WebSite X5 SEO features to attract more readers and increase traffic. You can even sell your travel ebooks online with WebSite X5 Professional version. It's so easy to start a blog with Travel. This template for bloggers will instantly inspire you to pack your bags and discover the world.
Lire plus
Full Template
Un Full Template est un site comprenant une structure graphique, des styles et des pages d'exemple.

Si vous décidez de l'acheter, vous recevrez un fichier de projet .iwzip créé avec WebSite X5 et vous obtiendrez gratuitement le Graphic Template associé, c'est-à-dire la structure graphique de départ.

À partir de la fiche récapitulative de commande, vous pouvez également sélectionner les Objets Optionnels inclus dans le projet que vous ne possédez pas encore.
Le total de la commande se met automatiquement à jour en fonction des articles ajoutés.

Une fois la transaction effectuée, les Objets Optionnels ajoutés seront disponibles dans Gestion des Objets > Achetés à l'intérieur du logiciel.
Si vous ne sélectionnez rien, vous recevrez uniquement le projet iwzip par e-mail et vous trouverez le Graphic Template parmi les modèles prédéfinis du logiciel.
Full Template
Un site complet à personnaliser et à publier aujourd'hui.
16 Cr
Graphic Template
Un Graphic Template est un modèle de site vide, qui ne contient pas de contenu, mais qui présente une structure graphique définie pour vous aider à configurer le projet. À la fin de la transaction, vous trouverez le Graphic Template directement dans WebSite X5, dans la catégorie Achetés.
Graphic Template
Un site vide avec une structure graphique simple pour commencer.
8 Cr