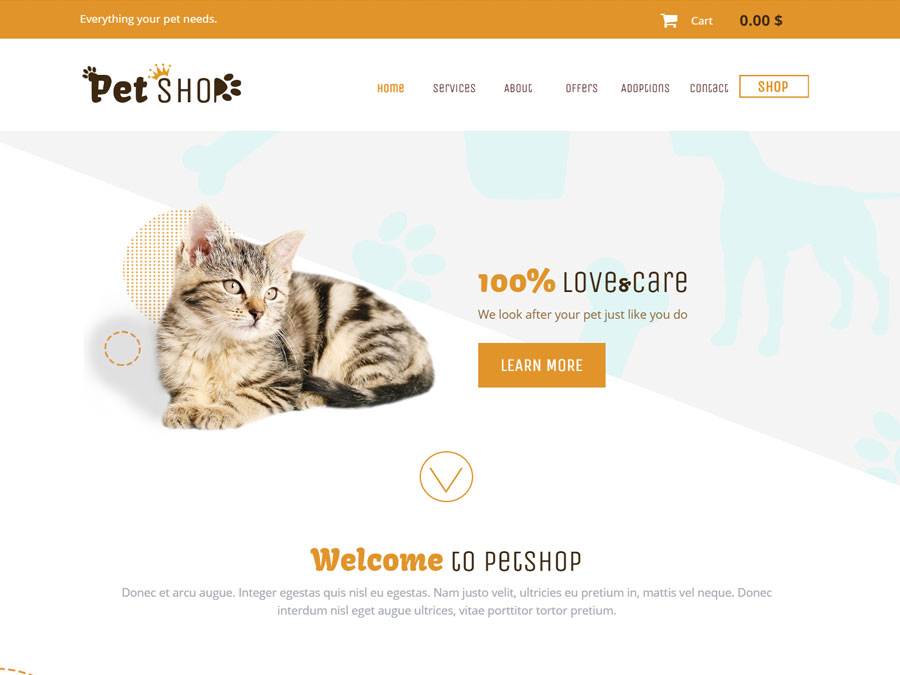 Live Preview
Created with WebSite X5 Evolution 14.0
Uses Optional Objects
We just love pets, don't you? So Pick PetShop, the perfect website template for Pet Store owners who want to sell pet food, toys or accessories online. No problem if you have a Veterinary Clinic or take care of animal shelters: you'll have a website ready in minutes with this multipurpose Full Template. Post their photo and tell their story online using PetShop Full Template and your homeless pets will find love very soon! And wait, we can offer you even more to pet grooming, cat and dog sitting or puppy training classes. Pets owners will be so happy to see that their polite puppy will stop chewing and digging holes everywhere thanks to your special help! There's about anything you can possibly need if you offer any kind of pet service, go for it with PetShop template!
Read more
Full Templates
A Full Template is a website complete with graphics, styles and sample pages.

When you buy it, you'll get a .iwzip project file made with WebSite X5 and its Graphic Template, that is its clean layout, for free.

From the Full Template order sheet you can also tick to add the Optional Objects used in the project that you don't own yet. The total of the order will change according to the selected items.

As soon as the transaction is completed, the Optional Objects will be available within the software, in Objects Management > Licensed .
If you leave everything unchecked, you'll get the .iwzip file by e-mail and the Graphic Template will be added to the WebSite X5 Default Template section.
Full Templates
A complete website to customize and publish today.
20 Cr
Graphic Template
Included!
Graphic Template
A Graphic Template is a website layout with no contents inside except for a preset graphic design to help you start your project. As soon as the transaction is completed, you'll find the template already in WebSite X5, in the Licensed category.
Graphic Template
A blank website with a clean layout to start with.
10 Cr