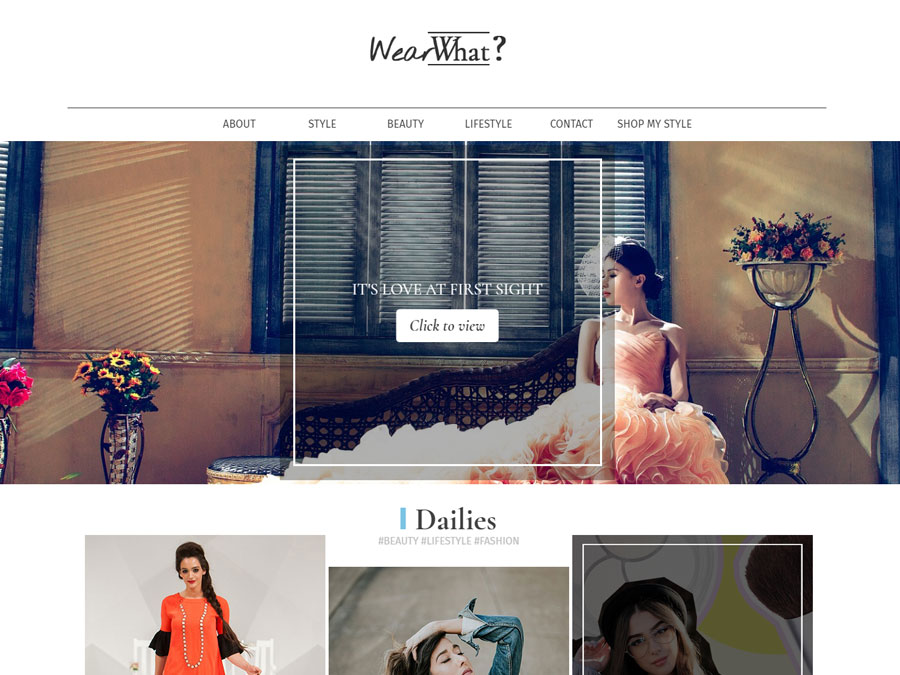 Live Preview
Created with WebSite X5 Evolution 14.0
Uses Optional Objects
Stop asking yourself how to rock fashion blogging and get started with Wear What?. This website template was made with Lifestyle and Fashion Influencers' needs in mind, but just like your wardrobe, it's simple and chic. Enrich the grid style layout with your outfit posts to inspire with your looks. Try scheduling your blog content with Wear What? and you'll realize that's a bit like shopping for a handbag: just a smooth fun experience! Whether you're at a Fashion Week or photoshooting for your Instagram account, this fashion website template will keep you in touch with followers and potential partners. When you feel ready for serious business, simply customize the shop page with your items and start making money with your fashion ideas. Anyone from style coach to fashion consultancy small agency will be able to manage their online presence with no hassle using Wear What? template. Try yourself.
Read more
Full Templates
A Full Template is a website complete with graphics, styles and sample pages.

When you buy it, you'll get a .iwzip project file made with WebSite X5 and its Graphic Template, that is its clean layout, for free.

From the Full Template order sheet you can also tick to add the Optional Objects used in the project that you don't own yet. The total of the order will change according to the selected items.

As soon as the transaction is completed, the Optional Objects will be available within the software, in Objects Management > Licensed .
If you leave everything unchecked, you'll get the .iwzip file by e-mail and the Graphic Template will be added to the WebSite X5 Default Template section.
Full Templates
A complete website to customize and publish today.
20 Cr
Graphic Template
Included!
Graphic Template
A Graphic Template is a website layout with no contents inside except for a preset graphic design to help you start your project. As soon as the transaction is completed, you'll find the template already in WebSite X5, in the Licensed category.
Graphic Template
A blank website with a clean layout to start with.
8 Cr