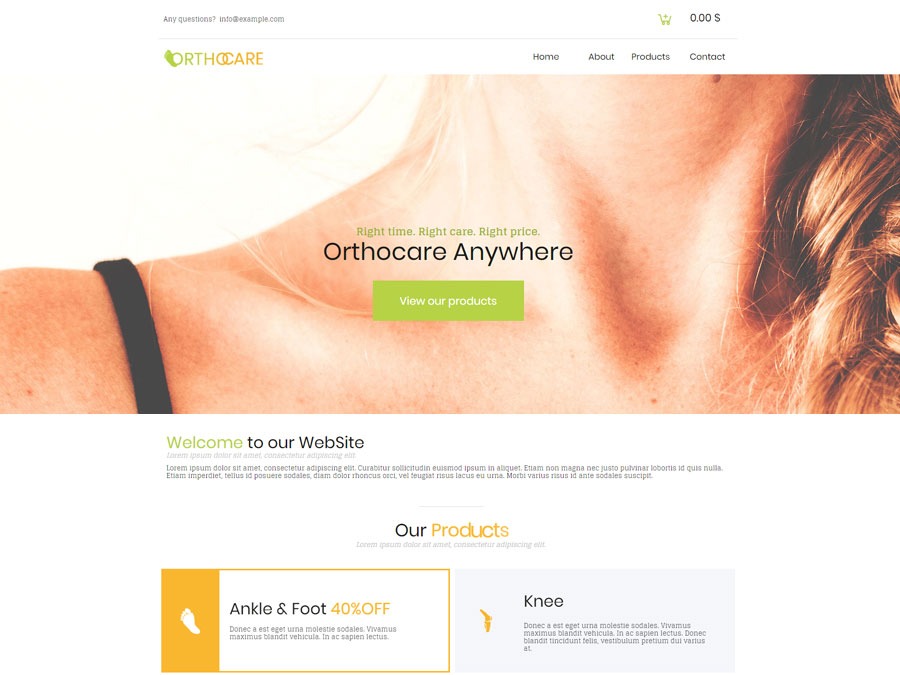 Podgląd na żywo
Utworzone w wersji WebSite X5 Evo 16.3
Wykorzystuje obiekty opcjonalne
You can start from the ground up or pick Orthocare medical website template and build a professional online presence in minutes. With all the essential assets that ensure a top-notch look and feel, it comes ideal for any other pharmaceutical and healthcare related business. As Orthocare is an e-commerce template, you'll find all the tools you need to start your own wellness online shop or add a few products to your medical website. This health and medical website template has simply the best to help online customers easily reach you out or set up an order. The functional layout is mobile-friendly and SEO-optimized. Add your photos to the Products gallery to customize the layout with your items. The contact page has been equipped with an easy-to-use contact form. If you're looking for a feature-rich, multi-purpose WebSite X5 template for your health and medical website, Orthocare could be the one.
Czytaj więcej
WebSite X5 Templates
Pełny wzorzec to kompletna witryna z grafiką, stylami oraz przykładowymi stronami.

Jest to projekt zbudowany w programie WebSite X5. Gdy zostanie kupiony, pojawi się w programie w sekcji Wzorzec na liście dostępnych wzorców w kategorii Licencjonowane.

Zamawiając wzorzec, możesz zaznaczyć opcję dodania wykorzystanych w nim obiektów opcjonalnych, których jeszcze nie masz. Wartość zamówienia może być różna w zależności od zaznaczonych elementów.
Gdy tylko transakcja zostanie dokonana, obiekty opcjonalne staną się dostępne w programie w Zarządzanie obiektami > Licencjonowane .
W przypadku nie zaznaczenia żadnego obiektu, zamówienie będzie obejmowało tylko wzorzec.
Orthocare
Kompletna witryna do zmodyfikowania i opublikowania już dziś.
16 Cr
Animated Headlines
Darmowe