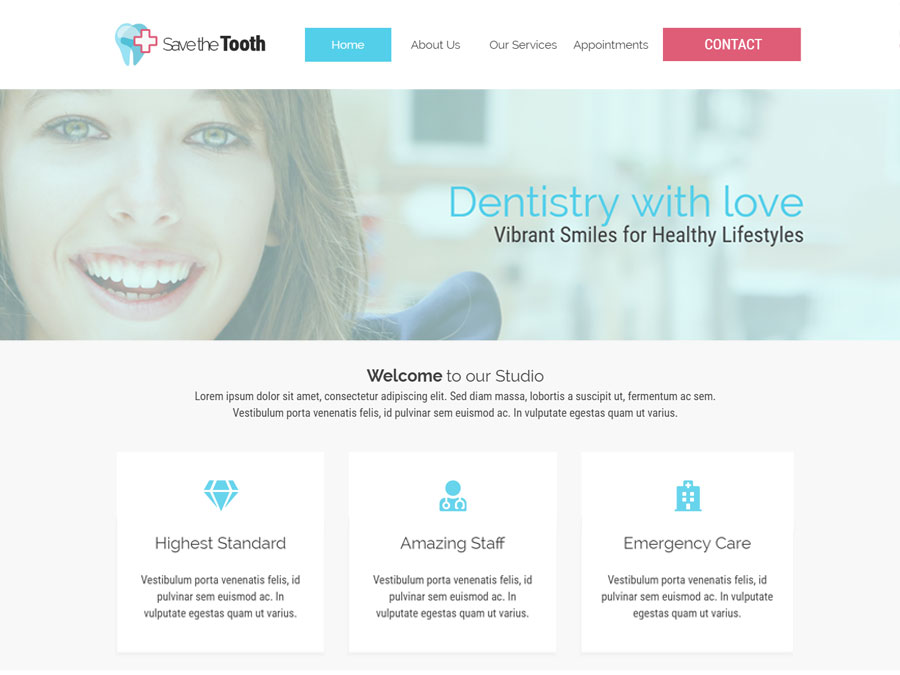 Podgląd na żywo
Utworzone w wersji WebSite X5 Evo 16.0
Wykorzystuje obiekty opcjonalne
When a healthy smile starts shining, there's no magic involved, but regular checkups and professional care are. If you want to make your dentist practice shine online, you should choose a clean and well-organized website to take good care of your online business image. With practical and intuitive design, Save the Tooth is the ideal template for dentists, odontologists, clinics or any medical-related practice. Even if you're not a code-expert, you'll build a professional website in minutes to provide a seamless online experience to your patients. Everything is already set to help you raise awareness around your medical services. On top of that, Google Maps and Appointment forms have already been integrated. This template will be your best opportunity for connecting with more patients.
Czytaj więcej
WebSite X5 Templates
Pełny wzorzec to kompletna witryna z grafiką, stylami oraz przykładowymi stronami.

Jest to projekt zbudowany w programie WebSite X5. Gdy zostanie kupiony, pojawi się w programie w sekcji Wzorzec na liście dostępnych wzorców w kategorii Licencjonowane.

Zamawiając wzorzec, możesz zaznaczyć opcję dodania wykorzystanych w nim obiektów opcjonalnych, których jeszcze nie masz. Wartość zamówienia może być różna w zależności od zaznaczonych elementów.
Gdy tylko transakcja zostanie dokonana, obiekty opcjonalne staną się dostępne w programie w Zarządzanie obiektami > Licencjonowane .
W przypadku nie zaznaczenia żadnego obiektu, zamówienie będzie obejmowało tylko wzorzec.
Save the Tooth
Kompletna witryna do zmodyfikowania i opublikowania już dziś.
16 Cr