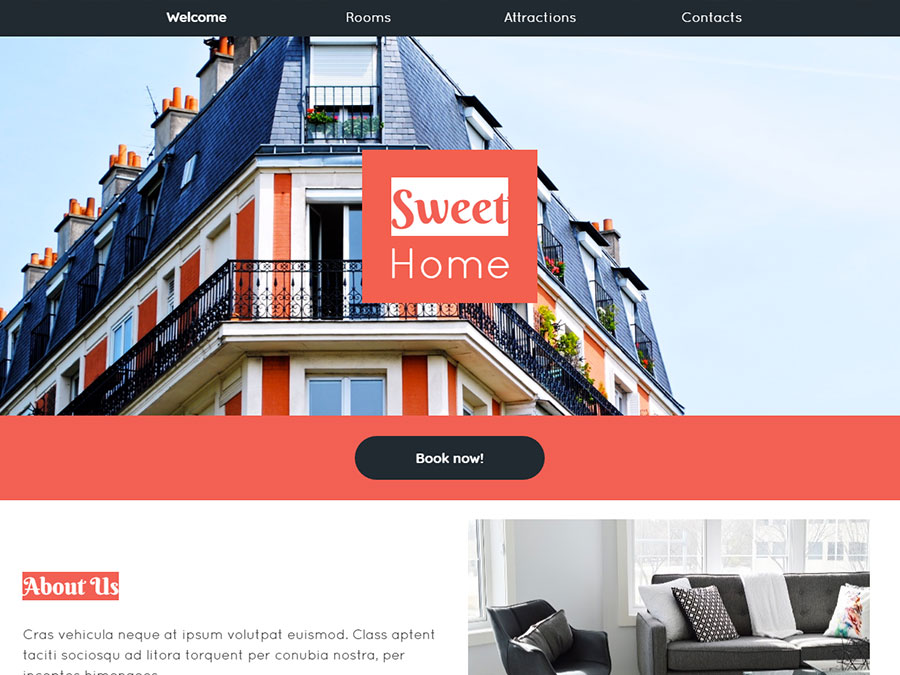 Aperçu
Créé avec WebSite X5 Evo 17.0
Prévoit des Objets Optionnels
Sweet Home is a fresh and sparkling template, perfect to rent your Bed&Breakfast's rooms, your apartment or letting know your house is available for couchsurfing! With a clean design, simple to navigate, this template is also responsive: it adapts to any device. The primary color of Sweet Home is Coral, identified by Pantone® as the "color of the year 2019". The parallax effect aims to amaze your visitors and let them to look around your proposals. In fact, they can easily navigate from one section to another, discover all the services you offer -they have a dedicated section- and finally book through a clear and completely customizable form. Your customers are waiting for you. Offer them an unforgettable experience: start the journey with Sweet Home!
Lire plus
WebSite X5 Template
Un Template est un site comprenant une structure graphique, des styles et des pages d'exemple.

Il s'agit d'un projet créé avec WebSite X5 et, si vous décidez de l'acheter, vous allez à le retrouver dans la liste des Templates disponibles dans la catégorie Achetés de la liste de la fenêtre de sélection du modèle.

À partir de la fiche récapitulative de commande, vous pouvez également sélectionner les Objets Optionnels inclus dans le projet que vous ne possédez pas encore.
Le total de la commande se met automatiquement à jour en fonction des articles ajoutés.

Une fois la transaction effectuée, les Objets Optionnels ajoutés seront disponibles dans Gestion des Objets > Achetés à l'intérieur du logiciel.
Si vous ne sélectionnez rien, vous procédez uniquement avec l'achat du Templatele.
Sweet Home
Un site complet à personnaliser et à publier aujourd'hui.
16 Cr