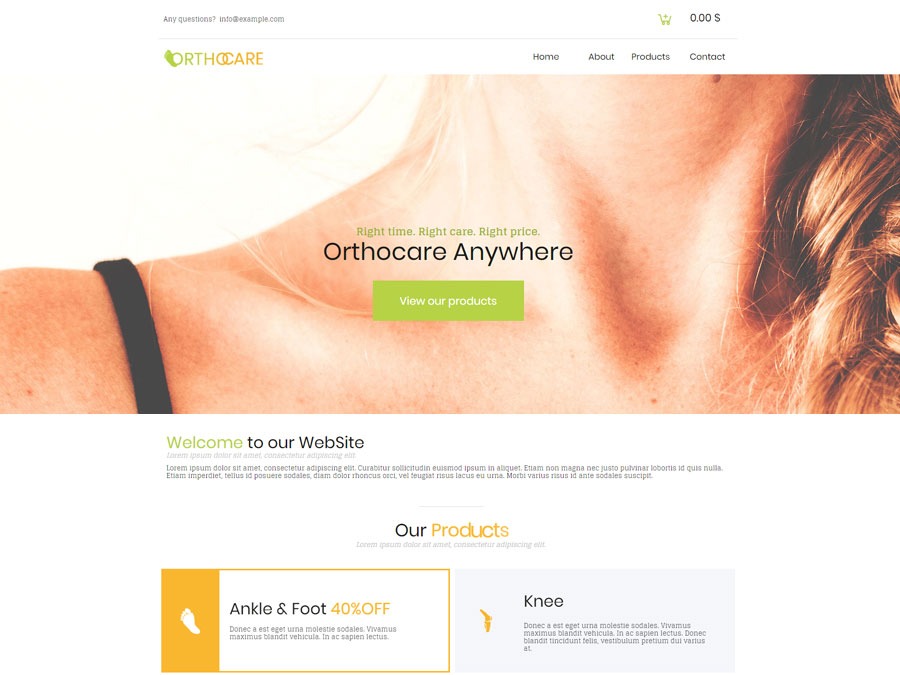 Aperçu
Créé avec WebSite X5 Evo 16.3
Prévoit des Objets Optionnels
You can start from the ground up or pick Orthocare medical website template and build a professional online presence in minutes. With all the essential assets that ensure a top-notch look and feel, it comes ideal for any other pharmaceutical and healthcare related business. As Orthocare is an e-commerce template, you'll find all the tools you need to start your own wellness online shop or add a few products to your medical website. This health and medical website template has simply the best to help online customers easily reach you out or set up an order. The functional layout is mobile-friendly and SEO-optimized. Add your photos to the Products gallery to customize the layout with your items. The contact page has been equipped with an easy-to-use contact form. If you're looking for a feature-rich, multi-purpose WebSite X5 template for your health and medical website, Orthocare could be the one.
Lire plus
WebSite X5 Template
Un Template est un site comprenant une structure graphique, des styles et des pages d'exemple.

Il s'agit d'un projet créé avec WebSite X5 et, si vous décidez de l'acheter, vous allez à le retrouver dans la liste des Templates disponibles dans la catégorie Achetés de la liste de la fenêtre de sélection du modèle.

À partir de la fiche récapitulative de commande, vous pouvez également sélectionner les Objets Optionnels inclus dans le projet que vous ne possédez pas encore.
Le total de la commande se met automatiquement à jour en fonction des articles ajoutés.

Une fois la transaction effectuée, les Objets Optionnels ajoutés seront disponibles dans Gestion des Objets > Achetés à l'intérieur du logiciel.
Si vous ne sélectionnez rien, vous procédez uniquement avec l'achat du Templatele.
Orthocare
Un site complet à personnaliser et à publier aujourd'hui.
16 Cr
Animated Headlines
Gratuit