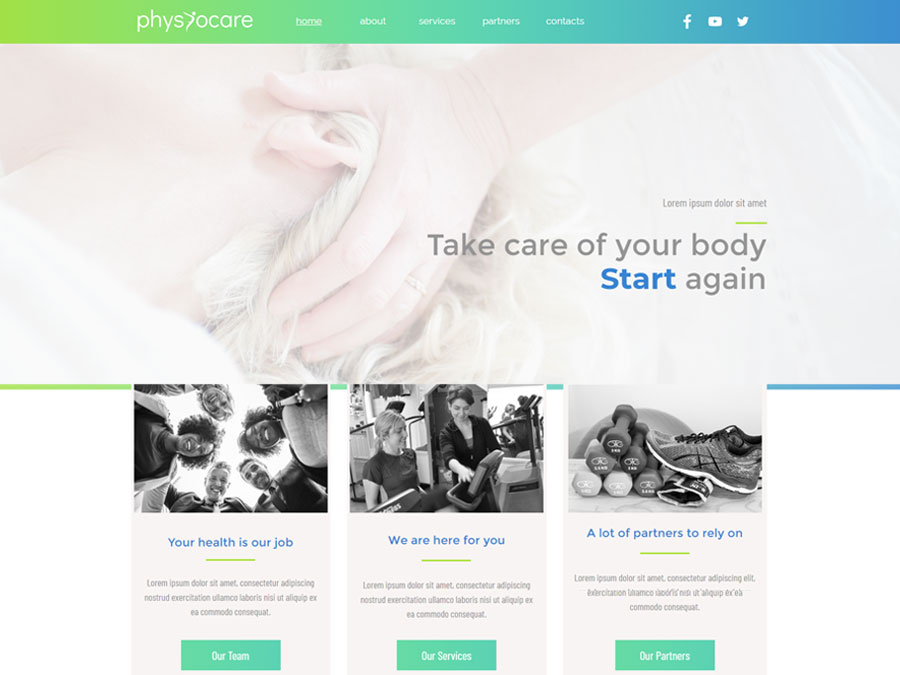 Aperçu
Créé avec WebSite X5 Evo 16.3
Prévoit des Objets Optionnels
Want to raise awareness online? Then promote your physiotherapy center in the best possible way using Physiocare. This WebSite X5 healthcare template features a simple layout, easy-to-edit content blocks and full-width images that will help you attract more customers. The intuitive About page is built to highlight all your services and members of your team in a single scroll. The contact form at the bottom of the page invites users to get in touch with your phisiotherapy centre. As a healthcare specialist, you will be glad to stay focused on your job while making your own professional website without touching a single line of code. Working with WebSite X5 builder, you can easily change the design anytime you want to suit your professional needs.
Lire plus
WebSite X5 Template
Un Template est un site comprenant une structure graphique, des styles et des pages d'exemple.

Il s'agit d'un projet créé avec WebSite X5 et, si vous décidez de l'acheter, vous allez à le retrouver dans la liste des Templates disponibles dans la catégorie Achetés de la liste de la fenêtre de sélection du modèle.

À partir de la fiche récapitulative de commande, vous pouvez également sélectionner les Objets Optionnels inclus dans le projet que vous ne possédez pas encore.
Le total de la commande se met automatiquement à jour en fonction des articles ajoutés.

Une fois la transaction effectuée, les Objets Optionnels ajoutés seront disponibles dans Gestion des Objets > Achetés à l'intérieur du logiciel.
Si vous ne sélectionnez rien, vous procédez uniquement avec l'achat du Templatele.
Physiocare
Un site complet à personnaliser et à publier aujourd'hui.
10 Cr