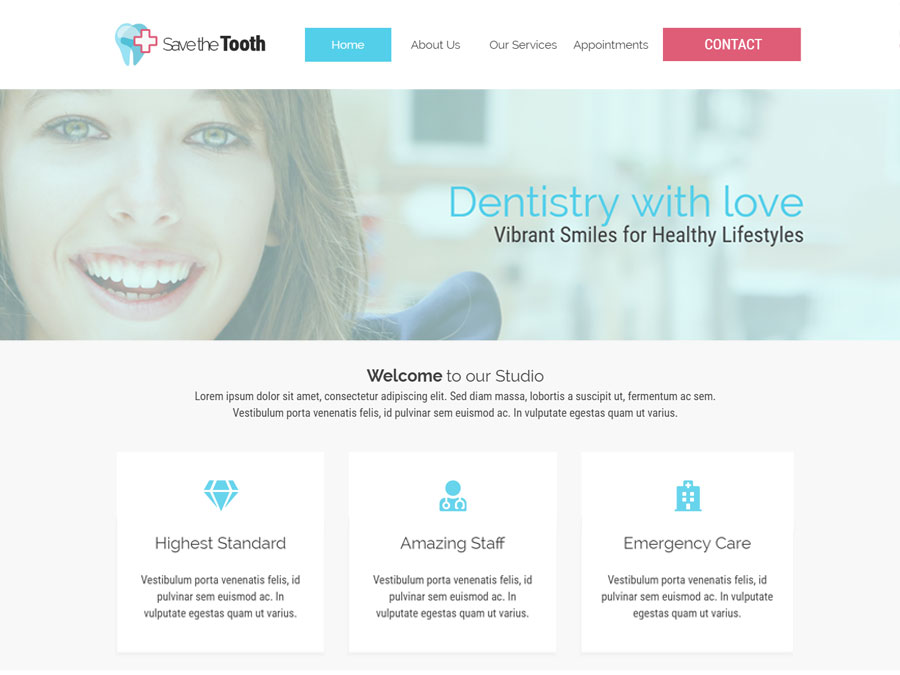 Aperçu
Créé avec WebSite X5 Evo 16.0
Prévoit des Objets Optionnels
When a healthy smile starts shining, there's no magic involved, but regular checkups and professional care are. If you want to make your dentist practice shine online, you should choose a clean and well-organized website to take good care of your online business image. With practical and intuitive design, Save the Tooth is the ideal template for dentists, odontologists, clinics or any medical-related practice. Even if you're not a code-expert, you'll build a professional website in minutes to provide a seamless online experience to your patients. Everything is already set to help you raise awareness around your medical services. On top of that, Google Maps and Appointment forms have already been integrated. This template will be your best opportunity for connecting with more patients.
Lire plus
WebSite X5 Template
Un Template est un site comprenant une structure graphique, des styles et des pages d'exemple.

Il s'agit d'un projet créé avec WebSite X5 et, si vous décidez de l'acheter, vous allez à le retrouver dans la liste des Templates disponibles dans la catégorie Achetés de la liste de la fenêtre de sélection du modèle.

À partir de la fiche récapitulative de commande, vous pouvez également sélectionner les Objets Optionnels inclus dans le projet que vous ne possédez pas encore.
Le total de la commande se met automatiquement à jour en fonction des articles ajoutés.

Une fois la transaction effectuée, les Objets Optionnels ajoutés seront disponibles dans Gestion des Objets > Achetés à l'intérieur du logiciel.
Si vous ne sélectionnez rien, vous procédez uniquement avec l'achat du Templatele.
Save the Tooth
Un site complet à personnaliser et à publier aujourd'hui.
16 Cr