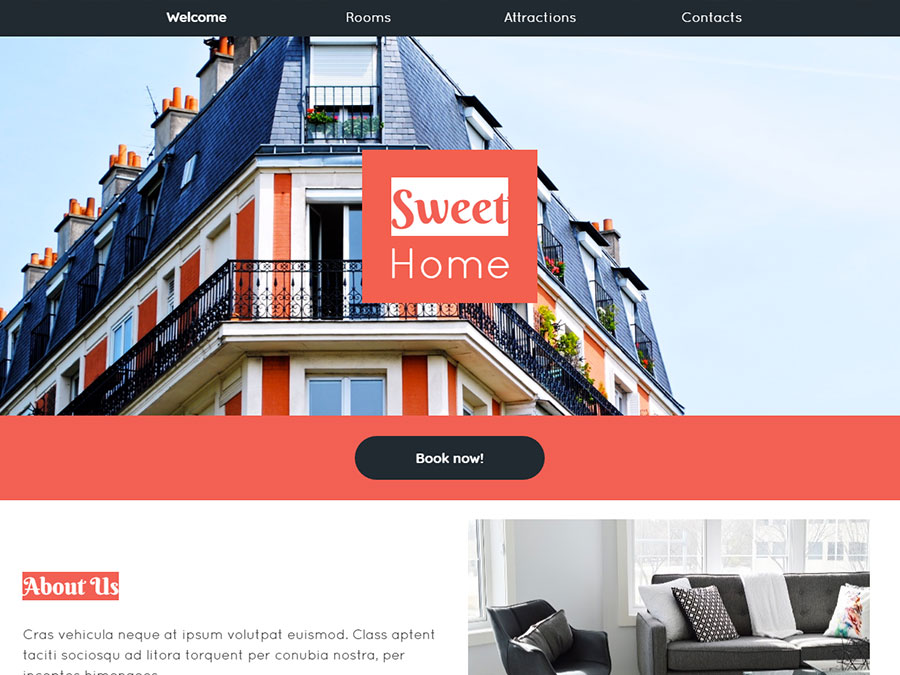 Live Preview
Created with WebSite X5 Evolution 17.0
Uses Optional Objects
Sweet Home is a fresh and sparkling template, perfect to rent your Bed&Breakfast's rooms, your apartment or letting know your house is available for couchsurfing! With a clean design, simple to navigate, this template is also responsive: it adapts to any device. The primary color of Sweet Home is Coral, identified by Pantone® as the "color of the year 2019". The parallax effect aims to amaze your visitors and let them to look around your proposals. In fact, they can easily navigate from one section to another, discover all the services you offer -they have a dedicated section- and finally book through a clear and completely customizable form. Your customers are waiting for you. Offer them an unforgettable experience: start the journey with Sweet Home!
Read more
Full Templates
A Full Template is a website complete with graphics, styles and sample pages.

When you buy it, you'll get a .iwzip project file made with WebSite X5 and its Graphic Template, that is its clean layout, for free.

From the Full Template order sheet you can also tick to add the Optional Objects used in the project that you don't own yet. The total of the order will change according to the selected items.

As soon as the transaction is completed, the Optional Objects will be available within the software, in Objects Management > Licensed .
If you leave everything unchecked, you'll get the .iwzip file by e-mail and the Graphic Template will be added to the WebSite X5 Default Template section.
Full Templates
A complete website to customize and publish today.
16 Cr
Graphic Template
Included!
Graphic Template
A Graphic Template is a website layout with no contents inside except for a preset graphic design to help you start your project. As soon as the transaction is completed, you'll find the template already in WebSite X5, in the Licensed category.
Graphic Template
A blank website with a clean layout to start with.
8 Cr