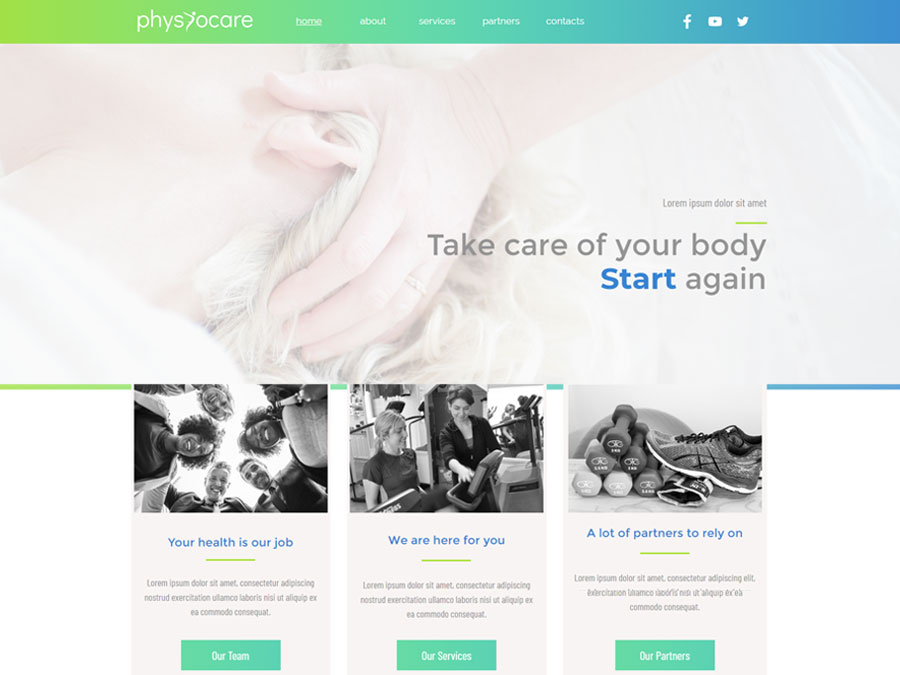 Live Preview
Created with WebSite X5 Evolution 16.3
Uses Optional Objects
Want to raise awareness online? Then promote your physiotherapy center in the best possible way using Physiocare. This WebSite X5 healthcare template features a simple layout, easy-to-edit content blocks and full-width images that will help you attract more customers. The intuitive About page is built to highlight all your services and members of your team in a single scroll. The contact form at the bottom of the page invites users to get in touch with your phisiotherapy centre. As a healthcare specialist, you will be glad to stay focused on your job while making your own professional website without touching a single line of code. Working with WebSite X5 builder, you can easily change the design anytime you want to suit your professional needs.
Read more
Full Templates
A Full Template is a website complete with graphics, styles and sample pages.

When you buy it, you'll get a .iwzip project file made with WebSite X5 and its Graphic Template, that is its clean layout, for free.

From the Full Template order sheet you can also tick to add the Optional Objects used in the project that you don't own yet. The total of the order will change according to the selected items.

As soon as the transaction is completed, the Optional Objects will be available within the software, in Objects Management > Licensed .
If you leave everything unchecked, you'll get the .iwzip file by e-mail and the Graphic Template will be added to the WebSite X5 Default Template section.
Full Templates
A complete website to customize and publish today.
10 Cr
Graphic Template
Included!
Graphic Template
A Graphic Template is a website layout with no contents inside except for a preset graphic design to help you start your project. As soon as the transaction is completed, you'll find the template already in WebSite X5, in the Licensed category.
Graphic Template
A blank website with a clean layout to start with.
8 Cr