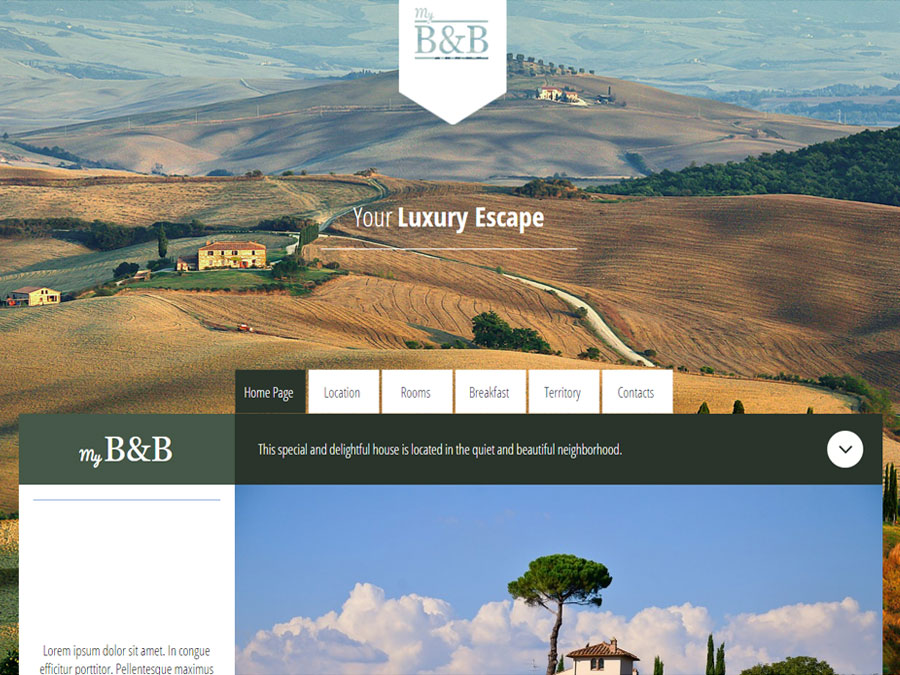 Live Preview
Created with WebSite X5 Evo 13.0
Uses Optional Objects
Open the doors of your country Bed & Breakfast and let your guests make reservations from anywhere with B&B template. This easy-to-use hospitality website will add personality to any small property. You can accept booking reservations 24/7 from smartphones and computers or showcase the lovely rooms that makes your B&B the perfect getaway. Turning moments into memories for your guests is definitely your job, but B&B template will give your site the professional look needed to an accomodation service.
Read more
WebSite X5 Templates
A Full Template is a website complete with graphics, styles and sample pages.

It is a project created with WebSite X5 and when you buy it, you will find it in the template list available in the software, in the Licensed category of the Template selection window.

From the Template order sheet you can also tick to add the Optional Objects used in the project that you don't own yet. The total of the order will change according to the selected items.

As soon as the transaction is completed, the Optional Objects will be available within the software, in Objects Management > Licensed .
If you leave everything unchecked, you will proceed with the purchase of the Template only.
B&B
A complete website to customize and publish today.
20 Cr