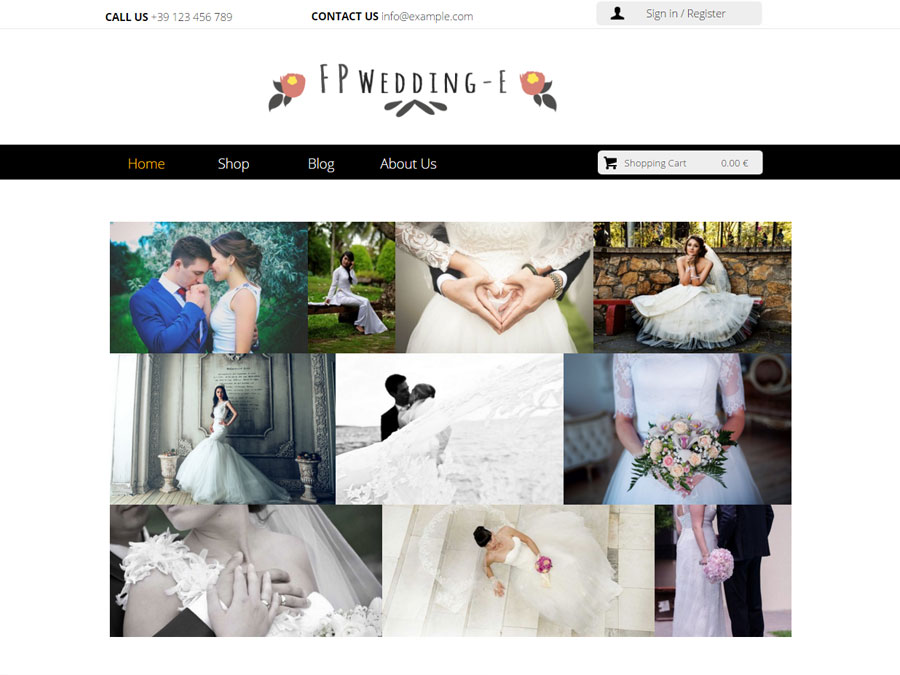 Live Preview
Created with WebSite X5 Evo 13.0
Uses Optional Objects
Inspire every groom and bride with a unique wedding shop template! FP Wedding-E's essential shopping features and lovely layout make it the perfect companion to start an online bridal store. You don't need to code to set everything up and make it yours. You can show off your dressing collection by simply updating images and price tags. Use the Blog area to share your fashion ideas on wedding rings, apparels and bouquets. Or add Justified Gallery to look more stylish. This website template is designed for Bridal Dressmakers, Marriage Apparel Providers, Showrooms and Wedding Dress Designers. If helping couples look amazing on their big day is your mission, FP Wedding-E is a match!
Read more
WebSite X5 Templates
A Full Template is a website complete with graphics, styles and sample pages.

It is a project created with WebSite X5 and when you buy it, you will find it in the template list available in the software, in the Licensed category of the Template selection window.

From the Template order sheet you can also tick to add the Optional Objects used in the project that you don't own yet. The total of the order will change according to the selected items.

As soon as the transaction is completed, the Optional Objects will be available within the software, in Objects Management > Licensed .
If you leave everything unchecked, you will proceed with the purchase of the Template only.
FP Wedding-E
A complete website to customize and publish today.
16 Cr